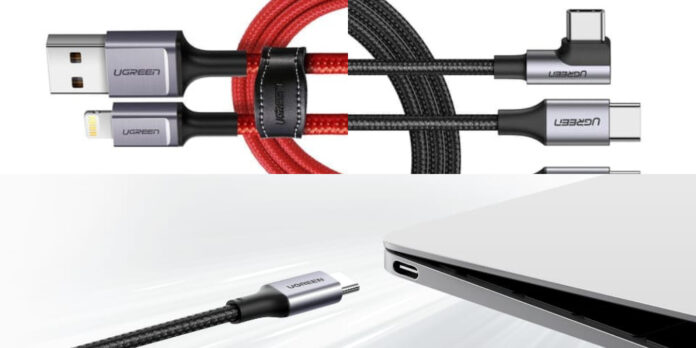 USB-C to lightning cable takes the simple iPhone charging to the next level. This cable is now used for both the charging and synchronization of devices with others. It's better to choose the USB-C to lightning cable over the lightning cables to get all in one.
With the lightning connector you can charge your iPhone 11/ 11pro/ 11 pro max, iPhone XS/ SX Max, IPhone8/8+, iPad, etc. And USB-C port can be used for Macbooks, car chargers, power banks, and other PD chargers.
If you are thinking about purchasing the USB-C to lightning cables, there are a few things that you keep in your mind while browsing. And why you should Ugreen USB-C to lightning cable by considering all the points below.
1. MFi Certification
While buying the USB-C to Lightning cable, there are two options to choose from; Apple Company manufactured products or MFi certified products if you are picking other manufacturers.
MFi certification is a standard process designed for products related to iPhone/iPad/iPod. All the manufacturers and developers should have to follow this process while producing Apple products.
So, while picking up the USB-C to lightning cable, ensure to check the MFi logo r check the Apple official site to check product certification.
All the USB-C to lightning cables of Ugreen is Apple MFi certified with the logo on them. Then you can check before buying.
2. Power Delivery
The power delivery of USB-C to lightning cable determines its charging speed. The secret of fast charging lies in the lightning connecter module.
For the maximum 3A charging, choose the C94 connector over others.C94 connector will charge your iPhone up to 50% within just half an hour. High-quality cables like Ugreen can use 18 to 94W adaptors for power delivery.
3. Versatility
Integrated adaptors, cable length, a wide range of power delivery, and data transfer maximize the USB-C to lightning cables' versatility. So you can use them for anything and in different scenarios; however, for more versatile features, ready to pay a bit more than usual.
4. Compatibility
While spending the money, it's important to buy a cable that has endless compatibility with various models. Based on your applications, ensure to check the compatibility range of lightning, USB-C, and non-PD connectors.
5. Durability
The durability of USB-C to lighting cables depends on two elements; cable quality and construction and connector pin. The Ugreen cables are nylon braided with reinforced stress points that maximize their life up to 15000+ bending tests. However, the top-notch metal tip can increase the plug lifespan up to 10000+ plugins.
6. Data Transfer Speed
The data transfer of USB-C to lightning cables varies from product to product. You can choose the data transfer speed of the cable based on your requirements. High-speed data sync will help you to finish everything quickly.
Check the product specifications for its data transfer speed, like the ugreen USB-C to lightning cables can transfer up to 480Mbps.
The Bottom Line
The selection of the right USB-C for lightning cables needs much more consideration than simple lightning cables.
As these cables are designed for the maximum and advanced applications, so it's important for you to choose the best one that will provide you the endless features and benefits. Hopefully, this article will help you to pick the best cable.