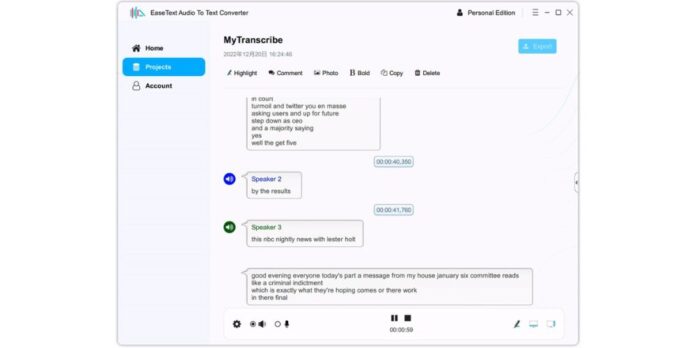 Whether you are unable to understand the accent of a non-native language or unable to hear the audio due to hearing impairment. The option of transcribe audio to text will be your only go-to solution in such a scenario.
There is a plethora of software that exists in the market. So, the question comes to mind which one to choose. The transcription quality and accuracy are the two things people never compromise. These are the key things which interest many businesses, organizations and corporations.
So, this article aims to introduce the best-ever transcription software in terms of usage, quality and accuracy. Sounds exciting? Let's uncover the facts!
EaseText: Transcribe Audio To Text
EaseText is a simple transcription software that you can use on Windows or Mac. The software is completely free. You don't need to pay monthly or annual fees in order to reap the benefits. The official website offers free software downloads. It does require stable internet access. You can perform the tasks offline.
The applications are so vast. The option exists to transcribe meetings, podcasts, lectures, conferences etc. You can transcribe video as well as audio using this software.
Benefits of EaseText: Transcribe Audio To Text
What urges users to get the most out of EaseText is not a single thing or factor. Multiple items contribute to this urge. Some of the most common are:
Unmatchable Accuracy
A lot of transcribers on the internet do not cater the accurate results. Some of them miss the data or result in comprehension mistakes. A few exist that cater to both charge a lot of fees, which many among us cannot afford. The text containing faults or zero accuracies after transcription is of no use. EaseText caters to all your needs without requiring you to pay a single penny.
Support 24 Languages
Many transcription software does not offer freedom when transcribing into multiple languages. But EaseText does so. It supports over 24 different languages. This is because the software developer wants to spread the word about this masterpiece around the globe. The main languages are Russian, Japanese, Dutch, Spanish, Italian etc. You can choose any language while transcribing the audio to text.
Ensured Data Protection
No one can hack or steal your data because there is no activity you perform live on the internet. As the software caters the offline usage. This means no one can break into your data. Ensured data protection is valuable for highly esteemed companies or organizations dealing with prime information. Regarding data security and privacy, EaseText is 100% trustable. It offers complete peace of mind.
Multiple Export Formats
EaseText can allow you to get text export in different formats. The key formats include doc, HTML, PDF, .txt etc. If you like to use the file in word, you can export it in doc format. In case if you want to send the file to anyone, you can do that in PDF. There is an option that exists for everyone. The option to transcribe audio to text is a great experience using EaseText.